Introduction
There are over 171,000 words in the English language, but for everyday speaking, a person should know around 15000 to 20000 words. Nonetheless, even fewer words are used in normal speaking, reading, and writing.
For kindergartners, it is a different story; you cannot overburden them with thousands of words. So, in this article, we will be discussing 100 uncomplicated words for them to spell and remember.
Also, It would be best to take a tour of Spelling Bee Ninja, and you will realize what your kids are missing in English.
100 Easy Words
The particular list we are talking about includes easy words for kindergarten to spell and memorize. Also, these words are selected after taking the cognitive abilities of a kindergartener into account. They are easy for you to teach them and even easier for kids to spell.
Print Table
Use this list in our spelling training  app
As usual this list is available within the SBN app, click the image below to view and download it in PDF format.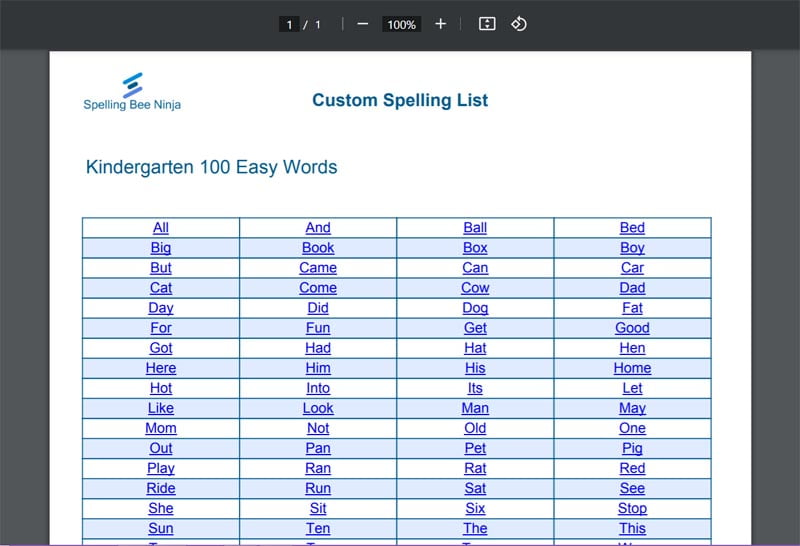 Here you have the flash cards ready to be printed and eventually cut to be used in your lessons and word games.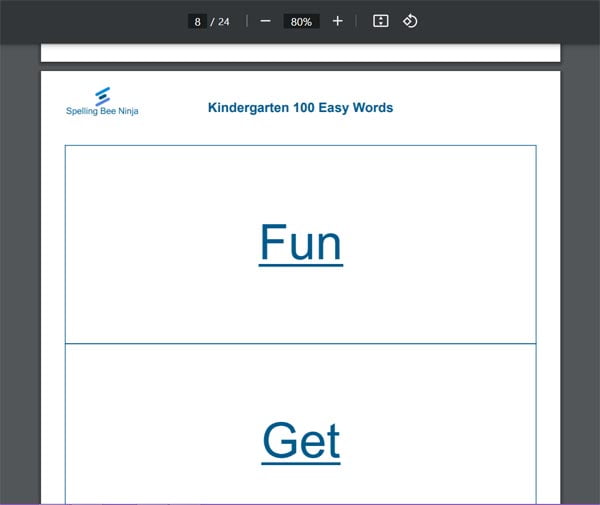 PDF, Flashcards and SBN formats
Here are all the available formats, the last row links to the list directly within our app, use it to take tests and with all the many featured offered by our SBN app.
How do you make them spell?
Numerous spelling exercises exist to help your children learn easy words and spell them. It would help if you take a look at the following spelling exercises:
Make flashcards and play with words. Also, ask them to remember the previous card words.
Play spelling bee with a group of kids and award the last one standing. This is a pretty simple spelling bee game and exercise, and it also enables them to boost their confidence with an urge to prove themselves. It works in a group where each kid is standing. Now, when a kid spells wrong, you will ask them to sit down and keep asking the spelling until there is only one left standing.
Another great way to teach easy words to kindergarteners is to sound them out and ask them to repeat them back to you. In this way, they will learn pronunciation and spelling as well.
Children love colors, right? So, why don't you implement colors to the spellings? One of these techniques is called rainbow writing. You will divide the letters of the words and write each letter in a different color. Now colorful letters will be interesting to kids, and they would want to get to know them.
This one is a pretty simple but effective technique. All you need to do is ask your kids to remember two or three words and learn their spellings. Now, after a while, you will ask them to close the book and speak the words, and they will tell you the spelling. Even if they don't remember, you should never push them. Take a break and ask them during lunch or dinner. Patience is the key here.
While you are at it, try some of the most innovative English spelling learning apps brought to you by Spelling Bee Ninja – A rising name among English teaching online platforms.
Conclusion
We have provided you with an excellent list of kindergarten words that can be taught at home or in school. Also, you can be creative while teaching them and try to practice different ways and tricks on your kids. Don't forget to let us know what worked best for your kindergartener. Happy Spelling!