Introduction
The spelling bee is a strenuous activity for most kids, although it is fun when you know all the spelling. Also, most of you who never played it don't know that remembering hard spelling bee words is the key to winning it. Don't worry because you will get a list of difficult spelling bee words, and we will also shed some light on how to memorize them quickly.
Hard Spelling Bee Words
First of all, let's look at the list of hard spelling words, and then we will discuss the strategies and methods you can apply to memorize them easily, here follow some words, you can also check our official very difficult spelling words and most difficult words to spell lists, along with the Most difficult SAT words.
Printable versions
This list is available within the SBN app, click the image below to view and download it in PDF format.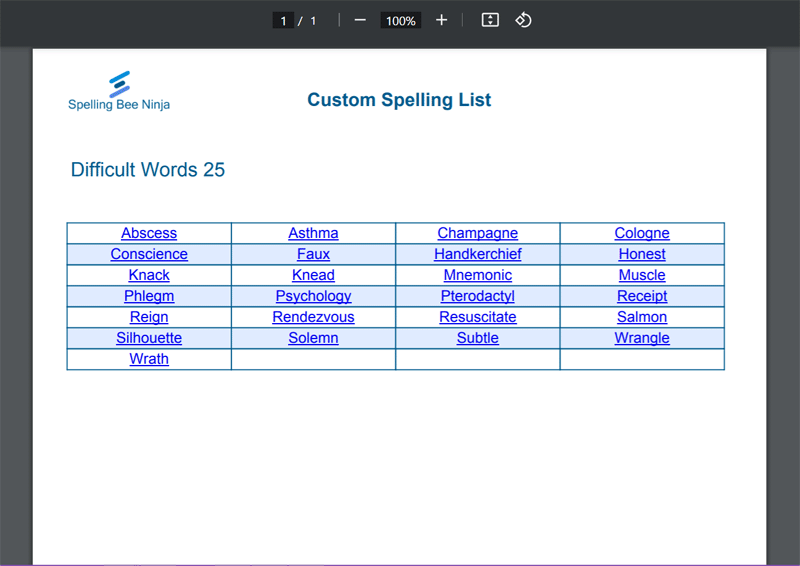 The flash cards for this list can be found clicking the image below.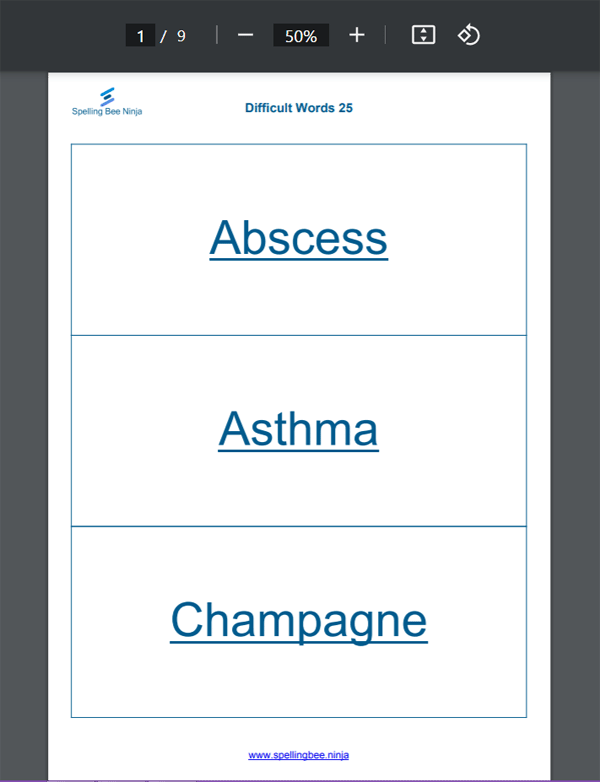 PDF, Flashcards and SBN formats
While you are at it, inspect our various spelling bee courses to lead you to the ultimate glory of being a spelling bee champion.
How to memorize them easily?
Since English is an old language and is the most spoken language globally, it is only natural that it has progressed a lot. Similarly, the methods to memorize spellings have also evolved.
It would help if you also remember that English is not a complex language; in fact, numerous researchers work day and night to simplify it – they do so to make it easy and more accessible. So, you can toss away that hefty load called 'complex language' from your shoulders.
Look for words within the words.
This is probably a natural method that many of you are already applying without knowing it. For instance, you can divide the word "unfortunately" into smaller portions while identifying smaller words within. Like 'unfortunately' will become 'UN' 'FOR' 'TU' 'NATE' 'LY'. As you can see that these words are easy to remember and memorize.
Memorize and Revise
Like a spelling bee competitor, you must always revise your memorized words. Similarly, try to memorize a few words each day to keep the memory active.
This process will help you correct any mistakes during spelling, and your mental recall function will become even faster, which is essential for a spelling bee contender.
Play Word Games
Take advantage of word games and increase your word learning chances. Research has found that applying fun learning ways yields better and long-lasting results. So, by following this method of learning hard spelling bee words, you will learn and have fun.
Also, you may check our entertaining and useful apps to become a spelling bee champion.
Eat Brain Strengthening Foods
This is probably the most ignored memory enhancement tip. You must strengthen your mind to get the most out of it. Also, eating more vegetables, fish, nuts, and blueberries can boost your cognitive functions. Similarly, dark chocolate and coffee can help adults.
Final Thoughts
Spelling Bee is the ultimate challenge to see who is best at English spelling. Hard spelling bee words are only the words, and if you understand and put a little effort towards them, you can quickly memorize each one of them.
Did you know that A newspaper invented the spelling bee and the first official champion was Frank Neuhauser?
Happy Competing!