In this article we will review the Spelling Shed website. As usual, this article is not sponsored by Spelling Shed or any other and provides an honest point of  view keeping in mind students' interests.
The Education Technology or EdTech industry has seen tremendous growth over the past decade. With the growth of technology and the ease of access to the internet, stakeholders from different levels of academia, including students, feel inclined towards this new form of education.
Now, you might be wondering what exactly EdTech is.
In simple terms, EdTech is the technology that supports education. Often referred to as Learning Technology, EdTech is a systematic approach to education using applicable means of technology like the internet, web tools, and so on.
The Spelling Shed is one such EdTech platform.
Built to cater to the needs of primary school students, spellingshed.com is a web based platform that is dedicated to spelling.
As you login to Spelling Shed, you will be presented with a plethora of useful resources along with a bunch of fun and engaging spelling games which can impact the way young kids learn their spelling or vocabulary.

With the help of spellingshed.com, kids will not only be able to learn all those teeth breaking spelling and pronunciations, but they will also be able to enjoy themselves to the fullest while doing so.
Spelling Shed has been designed following the National Curriculum needs, making it the ideal place to go if your children intent to take a shot at all the spelling bee contests.
At this stage, you might be wondering what makes Spelling Shed stand out in the crowd. Today, we will be looking at some of the key features that have helped this platform become one of a kind.
Interactive learning with spelling quizzes
The web games available on the platform are fun to play and have a positive impact on kids' spelling and vocabulary.
The word lists are plenty given that the target audience is primary school students. Over 4000+ words from the National Curriculum Syllabus are utilized here. Options for custom lists are also there.
Spelling Shed games are of three kinds
Practice: The main game type. Used for assignments.
Bee Keeper: Makes your guess the words by choosing letters.
Buzz Words: Composing words using random letter tiles.
Developers at Spelling Shed have made their games dyslexia friendly using the 'Open Dyslexic' font. The various difficulty levels help students of all abilities through their spelling lists with the appropriate degrees of challenge.
The Spelling Shed app also allows full offline play. Students from any school subscribed to Spelling Shed can access the online games using their account from any location.
But perhaps the most exciting Spelling Shed play is their Hive game.
Hive Spelling Games
You know how competitive gaming gave rise to the world of e-sports where players from around the world come together and face off against each other in a series of video games? Spelling Shed's Hive games are somewhat similar.
Hive games are played "LIVE" where all the pupils or participants are spelling out the same word at the same time.
Every participant is to play from their own device. Teachers can have full control of the Hive Games through the Teacher Hub.
Can you imagine the thrill of playing against your friends or classmates, that too with spelling?
It may seem over-exaggeration to those who prefer traditional teaching methods over modern ones, but this use of competitive gaming in the field of learning is truly and exceptional idea.
Spelling Shed deserves credit for this thoughtful and intriguing approach.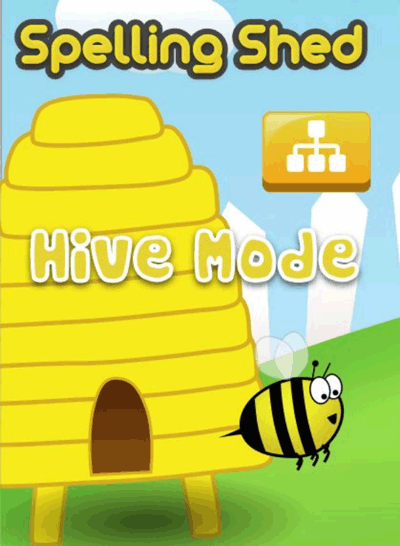 Source: twitter.com/spellingshed
Healthy competition among students
The web games and Hive game available on Spelling Shed produces some healthy competition among the participants.
As you play the Spelling Shed games, you will find yourself obtaining scores or points based on your performance.
This in turn, will help you climb the ranks of the different leagues at Spelling Shed. You can challenge yourself to be among the top ranked performers of your school or your league or even of your class.
Besides, the live Hive game is also another opportunity to show your fellow spelling enthusiasts how good you are.
A healthy competition among young minds is always admirable. It can motivate the students to put in more effort.
A healthy competitive environment is quite beneficial for one's personal growth.
[Read more about why a healthy competitive environment is good for students]
Spelling Shed certifications to keep kids motivated
Determination is something that keeps kids going no matter how difficult things can get.
And what better way to reward their determination and hard work than to reward them with documents that certify their achievements.
As Spelling Bee Ninja does, Spelling Shed provides students with digital or e-certificates up on the completion of certain tasks. These certificates are given to top scorers, spellers, speller of the week, and so on.
You might be wondering what value certificates like these will bring to your child. Well, accolades like these will surely keep your ward motivated to keep up the good work of learning.
Study shows us how a reward based learning system enables people to put in more effort in their tasks.
[Read more about the benefits of rewards-based learning]
A bird's eye view for teachers
Spelling Shed makes teachers' lives easier.
Once you login to the Teacher Hub, you are given full authority and control over your students and their day to day activities in the platform.
Here, teachers get to monitor what their pupils are doing and also evaluate their individual performances.
Access to the Teacher Hub lets you
Administer the accounts of your students
Assign tasks to your pupils and assess those assignments
Monitor your students individual progress reports
Access all available resources
The platform also provides mentors with weekly lesson plans, activities, as well as pre-prepared printable practice sheets.
Besides this, there are also separate worksheets for homework along with answer sheets to each of them.
All these features available at the teacher's disposal makes it fun for them as well.
What do you get by subscribing to Spellingshed.com?
Spelling Shed has a wide range of subscription packages available to the public.
Before you opt for a premium membership, you can try their 14 days free trial. If you are satisfied with what you see here, you can choose to opt for their paid packages.
The Personal subscription costs around 30 Euros/year and provides you with up to 36 student accounts. You will also have full access to their web game and hive games. Data tracking is also enabled in this package.
Then there is the Premium package for 150 Euros/year. This package gives you unlimited pupil accounts, and access to unlimited spelling sheets. You will also get all the other facilities from the Personal subscription package, along with detailed stats and leaderboards.
There are two other subscription options which are actually bundled with a Math EdTech platform. However, for the sake of relevance, we are not going to go into the details of those bundle packages.
To sum it all up, Spelling Shed is an very good EdTech platform that is bound to make spelling fun.