Introduction
Word Detective is a spelling book by Ann Richmond Fisher for 2nd graders., in this article we are present an honest review of it.
Spelling, although an important and vital subject for the linguistic growth and development of any child, can often be pushed aside by its very pupils due to its mundane and rather bland nature of appeal.
Kids between the ages of 6-8 years will look forward to something only if it manages to broaden their imagination and give them excitement.
Spelling as a subject doesn't really do that.
This book contains spelling words for students of the 2nd grade. This book is different in the sense that it makes spelling lessons fun and interesting.
In this book review, we will have a closer look at Word Detective and why you should buy it!
The book itself
| | |
| --- | --- |
| Title | Word Detective Grade 2 |
| Category | Educational –  Spelling Games for Kids |
| Author | Ann Richmond Fisher |
| Pages | 182 |
| Price | 16.99 Usd |
| Available | Paperback and Electronic |
Like I have stated before, Word Detective is a book that delivers fun and interesting spelling lessons to all its readers. The book combines enjoyable and interesting gameplay with a structured lesson plan which allows students to indulge themselves in these lessons without getting bored.
Word Detective is targeted towards 2nd grade students and contains 200 words for them to learn.
The book does an amazing job in partitioning these words into different lessons and implementing these lessons with the help of 130 engaging spelling games and puzzles.
About the author
Word Detective is the brainchild of author Ann Richmond Fisher, a former school teacher with a degree in elementary education from Northern Michigan University.
Ann has published over 60 books, posters and other products for a dozen publishers. Her knowledge in elementary education and experience in teaching is vividly reflected in this book of hers.
She is also the mind behind the super popular website Spelling Words Well.
Word Detective will, without a doubt, be one of her finest works in the field of education.
To know more about the author and her work, click here.
Appealing visuals
One of the most important things about a kids' book is the visuals. Kids' are more likely to get bored of a book if it fails to appeal to them in terms of colors or visuals. Word Detective has some amazing illustrations which can be seen throughout the book. From the artwork to the character design, every key visual in the book has an appeal to it which is something kids will definitely love.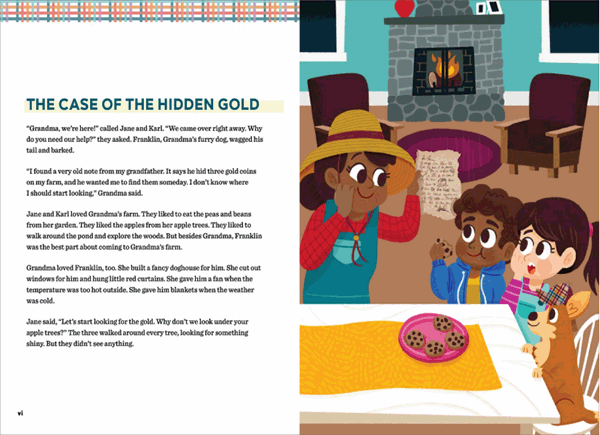 A well-structured lesson plan
The 200 spelling words included in the book are divided over a length of 11 chapters.
Each of these chapters has its own set of words along with games and puzzles. The words are categorized into different groups like for instance family, feelings, and so on.
Students are introduced to the spelling words' list from each chapter at the beginning of the chapters and are then eased into the different spelling games and puzzles associated with those word and chapters.
As the chapters go by, the words keep becoming longer and harder. This approach from easy words to a bit more difficult ones, along with the way the book feeds these words to the students via interactive game play and puzzle, gives this spelling book a nice structure.
Spelling Games and Spelling puzzles
The 130 spelling games and puzzles in Word Detective are distributed throughout the 11 chapters with around 12 games per chapter.
These games including filling the gaps with the correct spelling or word, making sentences from the given words, crossword puzzles, scrambles rhyming words, and so on. Besides this, the puzzles also vary on the basis of impact each puzzle has on the student.
We will talk about the learning outcomes of these spelling puzzles in the following section of this review.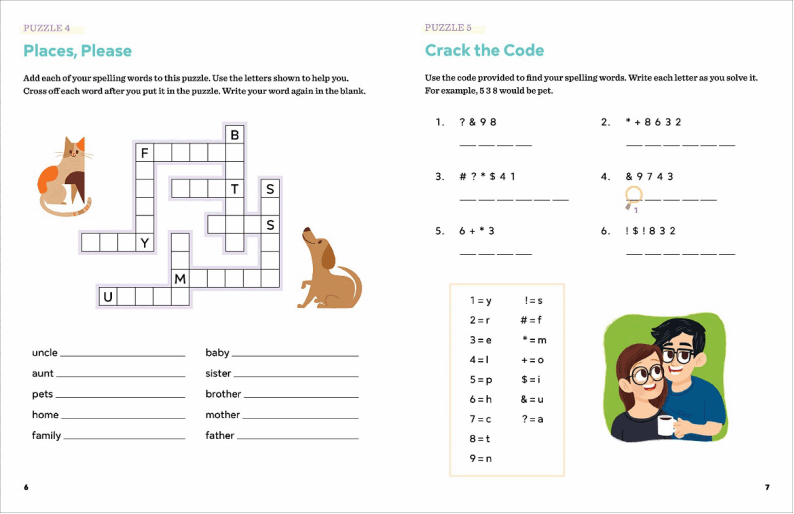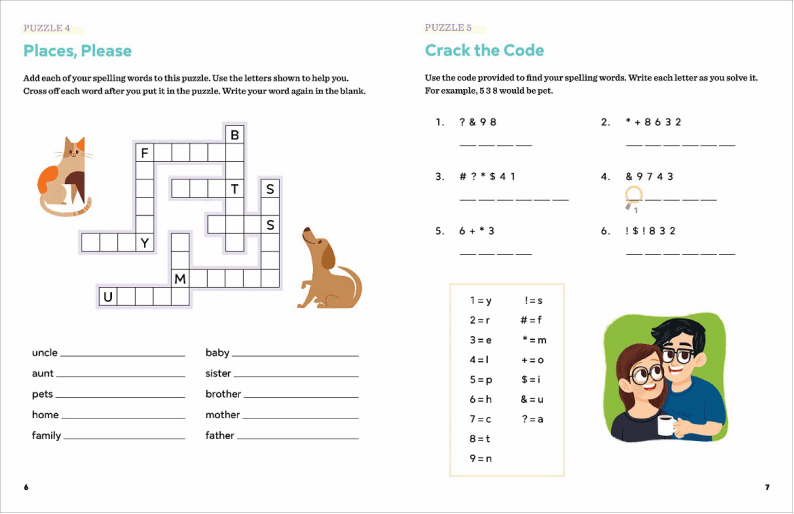 6 learning outcomes of Word Detective
So far, we have only talked about the book and its content. Now, let's dive a little deeper and get into the learning outcomes and the impact Word Detective will have on the spelling and vocabulary retention capabilities of your students or children.
Increased spelling/vocabulary retention capabilities: The 12 or so puzzles from each chapter of the book are based on the spelling words from the same chapter. As the student go on to solve these puzzles, they will be coming across the same words multiple times. This not only allows them to get a good practice on those spelling words, but it also helps increase their spelling and vocabulary retention capabilities.
Composing meaningful sentences: Students will be able to make sentences using the words they have just learnt to spell. The sentences will be easy and short, and the kids should have no trouble whatsoever in composing such sentences. The parent or teacher should assist their student accordingly in this case.
Helpful for spelling bee competitions: The 200 words in Word Detective are sufficient for spelling bee preparation. Whether they are in-class spelling bee competitions, state level spelling bees, or even the national spelling bee competition, this book has your child covered.
Know more about spelling bee competitions here. They might need to learn a few additional words, but most of the spelling words are covered in this book. Checkout some of the other spelling bee words for 2nd grade students here.
Helps students to build up their analytical thinking capabilities: The games and spelling puzzles included in Word Detective can help students build up their analytical thinking capabilities. Spelling Games like scrambled words, correcting the misspelled words, crossword puzzles, rhyming words, etc. play a great role in this regard. As the kids learn to analyze the definitions of the words, they can also get accustomed to the synonyms of certain words. By the time they finish the book, they will not only have an enriched grasp of spelling and vocabulary, but they will also be smart from an analytical point of view.
Introduction to compound words, vowels, consonants, and syllables: As mentioned before, the book eases the students into the more difficult words after having them go through the comparatively easier ones. Near the end of the book, the students are introduced to compound words, vowels, consonants, and syllables. They are also introduced to spelling words which contain silent letters.
All set for the 3rd grade: The book Word Detective is directed towards the development of spelling and vocabulary of 2nd grade students. As your kids are done with this book over the period of a school year or so, they will be fully prepared to take on the spelling challenges of the 3rd grade.
The difficult words at the end of the book will also help them understand the challenges that await them in 3rd grade spelling lessons.
Besides, having completed the book and all its puzzles, kids will gain more self-confidence when it comes to spelling out words in the English language, and they will be all pumped up to take on the challenges that await them in the next grade.
The benefits of Spelling Book Word Detective
For the students
Experiencing new spelling and vocabulary
Fun and interesting puzzles to enjoy
Learning while have tons of fun
Building up a better understanding of English as a language
All prepared for different spelling bee competitions
For the parents
Keeps your kids entertained while ensuring that they're doing their spelling lessons
Word Detective is a book which is quite easy to understand, and parents will have no difficulty to impart these spelling lessons to their children
Answers are provided at the end of the book
For the teachers
Word Detective is a book that can be used in class as a resource material for spelling lessons
Well-structured lesson plan
In-class activity can be conducted with the games and puzzles in the book
Can be used to prepare your pupils for their spelling bee competitions
Can be used to organize in-class spelling bee sessions
To conclude
Word Detective is an amazing book which is quite helpful for imparting spelling lessons. As a book dedicated towards the 2nd grade, this book will definitely be of good use to both students, and their teachers or parents.
Spelling can be a mundane subject. Thankfully, Word Detective is here to make spelling more fun and interesting.
You can buy the book from Amazon for a price that really worth the value brought by the book.
"Excerpt from Word Detective, by Ann Richmond Fisher, published by Rockridge Press. Copyright © 2019 by Callisto Media, Inc. All rights reserved."