Dear users,
our friend Ann Fisher strikes again with a new fantastic book for improving your spelling.
After the best seller Word Detective for grade 2, a new great title is on the go: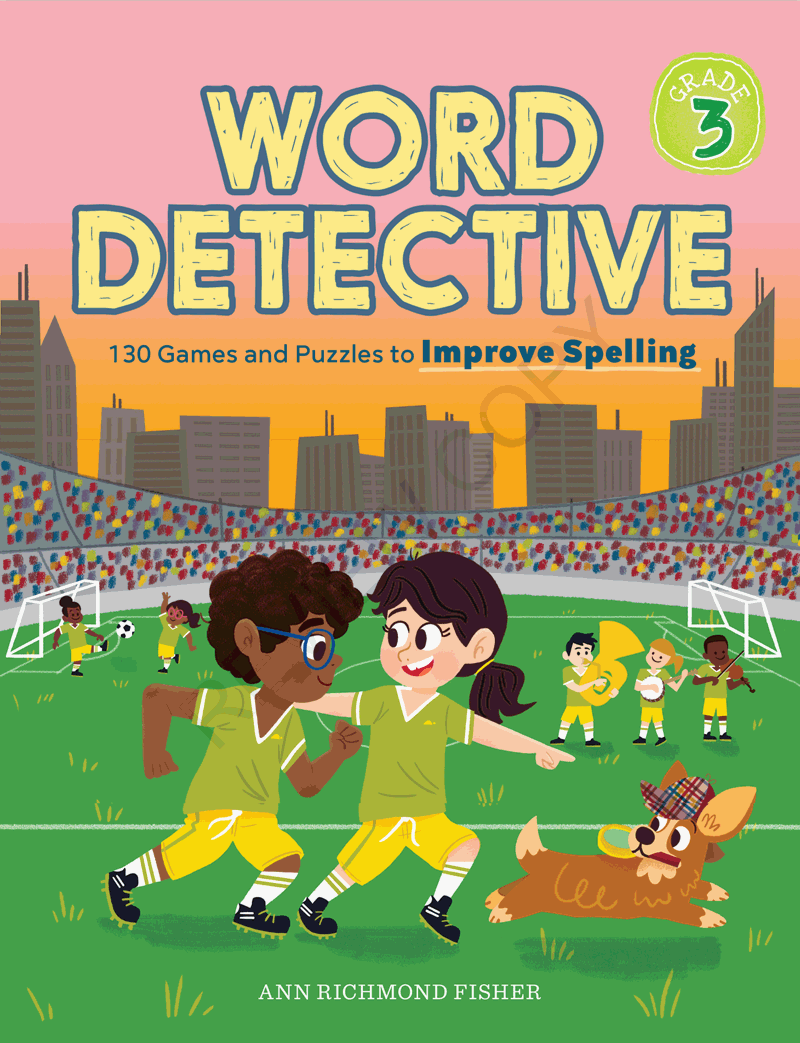 Word Detective for Grade 3
This title best suits the needs of third graders, including games and quizzes specifically designed to improve spelling capabilities.
The book is a massive collection of spelling games, quizzes and puzzles specifically designed to improve spelling capabilities of grade 3 students.
The book itself
| | |
| --- | --- |
| Title | Word Detective Grade 3 |
| Category | Educational –  Spelling Games for Kids |
| Author | Ann Richmond Fisher |
| Pages | 181 |
| Price | 16.99 Usd |
| Available | Paperback and Electronic |
The book is now available on pre launch on Amazon and will be officially launched on March 3rd 2020.
As for the grade 2 version Word Detective for third graders delivers tons of fun while being a serious tool to improve spelling.
A structured, organic, themed lesson plan will involve the kids leaving no room for boredom.
More than 180 full pages beautifully crafted and decorated with stunning illustrations.
Type of games
The book features 130 games of different kind, among the others:
Guess the word games
Crosswords
Search the word
Complete the sentence
Encrypted words
TicTacToe
Words and Math
….and many many others.
the book is a massive collection of smart spelling games that will entertain and educate your kids in the healthiest possible way.
Artworks
The book is fully decorated with lovely illustrations by Joel and Ashley Selby.
The style of these artists is very peculiar:  featuring naive elements, it recalls themes from the good old days being original at the same time, proposing a very interesting system of proportions and perspective.

The illustrations  alone bring to the book high educational value as they represent excellent pieces of art, carrying messages of  beauty, brother ship and love for life, perfect for K12 kids.
Quizzes Solutions
At the end of the book a complete section is dedicated to the solutions of all the games.
About Ann Richmond Fisher
Author of over 60 educational books, Ann is a best selling writer.
Her knowledge in elementary education and huge experience in teaching is witnessed by her works. Founder, designer and manager of  one of the most appreciated spelling websites: Spelling Words Well.
Ann's profile on Amazon.
"Excerpt from Word Detective, by Ann Richmond Fisher, published by Rockridge Press. Copyright © 2019 by Callisto Media, Inc. All rights reserved."