The Spelling Bee Training site
The most comprehensive spelling bee resources kit for all the students willing improve spelling skills and, why not, master and win spelling bee competitions.
We also welcome teachers and schools to participate and use our tools for their lessons.
We developed advanced tools to aid students in succeeding in this challenge.
Spelling Bee App.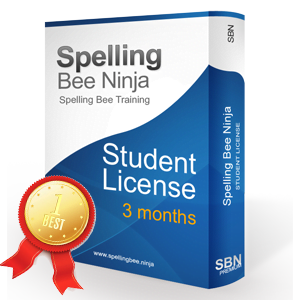 It is the first  professional spelling bee training system, it is not just a simple game or quiz based app, but it has been carefully designed to deliver significant improvements
very quickly to students of every grade.
A training app that delivers real spelling bee help,  designed with the precise intent of training students to master spelling bee words so they can be serious competitors.
Learn more about how Spelling Bee Ninja works checking this Spelling Bee Ninja Tutorial page
SBN contains every single English word and is aware of the level of difficulty of each one.
SBN can speak perfect natural English,  delivering to students realistic spelling bee test simulations.
SBN can provide custom study list and keep track of errors, also it can release certificates of achievements.
Spelling Bee Ninja is a perfect companion for spelling bee training: it remembers all the misspelled  words and provides the proper words at each new test guiding the student to learn all the necessary words to master his level.
Find out more information in our Spelling Bee Ninja presentation page.
Spelling Bee Tutorials
The tutorials section contains articles describing how to improve your spelling skills.
Find here how to study spelling, how to maximize your efficiency. Tips, tricks, video lessons and more. A goldmine for spelling bee training.
Here we will keep on collecting and classifying all the most interesting resources and on line tutorial, we will find on the Internet.
You are welcome to suggest any resource you think could/should be included on our website.
Spelling Bee preparation Manual
In this website you can find our spelling bee book, containing plenty of useful information for your spelling skills improvement and to prepare for next spelling bee.
Mastering Spelling Bee is structured in five sections as follows: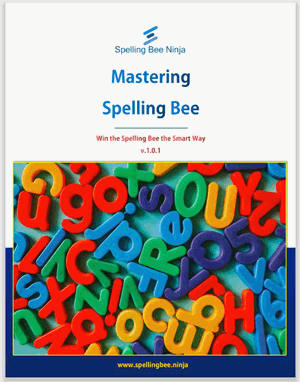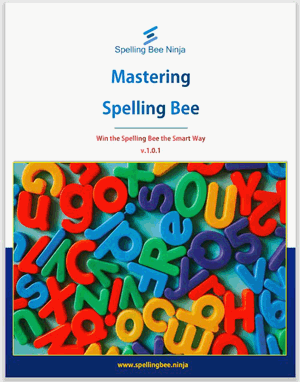 Section 0:
A brief introduction about the book and useful info.
Section 1:
Overview of international competitions, rules and history.
Section 2:
Spelling Bee preparation techniques and study methods and strategies.
Section 3:
Training using Spelling Bee Ninja app.
Section 4:
Printable Spelling bee lists and cards.
Visit the dedicated page for more information and to get your  copy
Spelling Word Lists
In this website you will find plenty of spelling words lists, divided by grade of difficulty, lists are provided by our smart Spelling Bee Ninja app.
Using our app will allow you to handle multiple spelling list, import your ones and create new as Spelling Bee Ninja is aware of the difficulty level of each English word.
Use your lists to prepare for spelling bee, you can also embed them into your website or use them to take interactive spelling tests using our app.
The spelling Bee search engine.
Spelling Bee Ninja features a Spelling Bee Search Engine, it collects data related to spelling bee words,  like word difficulty, the frequency of usage, misspell rate based on students nationality, age and so on.
In this way,  Spelling Bee Ninja can provide analytics for every single word and use this data to generate custom spelling words list.
The final aim of Spelling Bee Ninja System is to provide the most reliable and powerful intelligence tool related to the spelling bee.
Spelling Bee Magazine.
Represented by this website, it collects articles, words list, tips, tricks and resources to help a student to improve their spelling capabilities.
Our articles are usually related to Spelling Bee and books that could help improving your spelling skills.
Moreover, we are convinced that reading is one of the most important activity for everyone, not only students. So many people just stop reading after finishing the study cycle.
It is by reading books that our mind opens up and our critical thinking develops, making us more evolved both as individuals and as mankind representatives.
We love books and reading in general, that is why we are dedicating a section of the websites to reading, this section will contain books reviews, spelling bee stories and more.
We are constantly looking for cooperation with students, school, and educational institutes.
If you want to write some guest post, introducing yourself school, service or your study techniques, drop us a line to become a guest-author.
Plenty of the artworks in our magazine are provided by the awesome Freepik website.
Who we are.
Software studio in SF California, passionate developers of apps and software systems.
Our apps are used by hundreds of thousands of users worldwide.
Follow us on twitter @Spelling_Ninja