Introduction
The Ninja Spelling Bee is a leading English spelling quiz game that will test your children's spelling abilities.
It also aids in the recall of often misspelled English spellings.
Quiz games are an excellent method for your youngster to learn while having fun. This Ninja Spelling Bee quiz is primarily what you'll require!
Many children struggle to learn English words and grammar.
This spelling game makes their learning process fast and easy. As a parent, if you want to broaden your child's English vocabulary, learning, and writing skill today, let your young one play a spelling quiz!
The Spelling Test
Spelling Bee Ninja (SBN) software is dedicated to helping you become a fantastic speller. Also, it will prepare you for future Spelling Bee contests.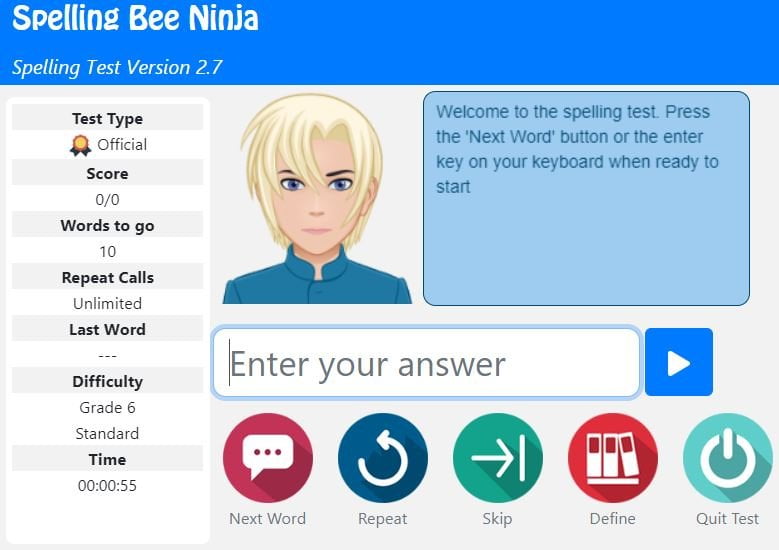 First, you need to create a student profile and start a spelling test – you can find it in the student section.
It also includes an intelligent training feature to input your list of words. You may also enjoy the benefit of thousands of words within the SBN Official Directory.
Furthermore, the Smart Training feature is a very effective spelling bee preparation method.
Also, you can analyze and fix your mistakes and then try again. Keep trying until you feel that you have gotten a grasp over Spelling Bee.
Also, this innovative software allows you to save your lists and manage your progress.
Finally, you can also open a class account if you are a teacher.
Test Your English Language Proficiency!
Parents and teachers who have created their vocabulary list can also import it into the paid account. The list can be helpful to children with their homework and that vocabulary. Nowadays, spelling bees are held locally in schools all around the globe. The student at the local level then competes in district-wide contests. Winners compete for city, country, and statewide next go for national competition.
The National Spelling Bee has become very renowned nowadays. So much popular that you watch it on television. Enroll your kids because you never know; your kid might be the next champion seen live on television.
How do you practice Spelling Bee by yourself? Try It Today
It's the right time to "bee" what you can be! Gather your friends and family members to check out the following activities. These are important for your improving child's cognitive process.
Does your child think himself the best speller? Let's have competition with others
Ask any family or friend to play a fun online spelling bee game with him.
He understands himself as the best player. Let him prove it. After completing the game, he can keep the record and create a vocabulary list to improve his spelling for the future.
Spelling Bee Tournaments?
Are you keen to take part in National Spelling Bee?
Checking the names of the champions and their winning words might help you with motivation. There can be many lists of past National Spelling Bee Champions and the words they spelled correctly to win the champion title.
Furthermore, you will be amazed that competitors in these worldwide tournaments started small and began from word games. After that, gradually, they progressed and groomed their competitive skills, and some of them became the ultimate champs in Spelling Bee.
Can you spell complex words correctly? Let your family and friends make the decision for you! Are you ready to have your spelling bee at home? It's a fantastic idea.
Gather a few friends and family members to spell the words if you lack words or vocabulary. Don't worry about that. You can seek help from our regularly updated content. Have fun learning new words!
Ninja Spelling Bee is the best way to build your vocabulary. Teachers and students will always find these games very helpful.
What else does this Quiz/software improve?
Well, quizzes can be a pain for most students. However, exciting quizzes are another story. A wise guy once said that if you don't want to work a 9 to 5 for the rest of your life, choose a career that interests you – you will not work a single day for the rest of your life.
He was right because what interests us is not a job for us; instead, it is a hobby that we enjoy.
Similarly, in the case of this exciting spelling quiz game, kids will not get pressured; instead, they will enjoy this activity.
Finally, while enjoying it, they will learn numerous complex words quickly, which otherwise they would have learned in a challenging environment.
Conclusion
In conclusion, online games are excellent for children. Also, those activities train children's minds and encourage them to learn something new, which is perfect for them.
These online spelling game platforms, such as Spelling Bee Ninja, are among the best. Not everything is perfect. Over time, the games will improve.
The coders and programmers working behind the scenes consult with English literature experts to create these games, so be relaxed as you are in good hands.