Mexican MEXTESOL Spelling Bee is organized by MEXTESOL, which stands for the Mexican Association of Teachers of English, A. C. It is an academic organization aiming to develop the English language (both in terms of speaking and writing) among its members as well as non-members.
MEXTESOL is also involved with the development of teachers and research methods that involves English linguistics.
In order to expand their vision, MEXTESOL organizes the MEXTESOL National Bee for students of both primary (fifth and sixth grade) as well as for secondary school students.
A total of 50 students are allowed to participate in each spelling bee contest. These spelling bee contests are limited to schools where English is not that often used as a language or in academic classes. This is done to focus efforts into the development of those school children who are deprived of proper inclusion of the English language in their academic curriculum.
Registration for Mexican MEXTESOL Spelling Bee
Registration is to be completed through one's school. The applications are heavily scrutinized as the seats for the spelling bee is very limited.
Mexican MEXTESOL Spelling Bee 2020 schedule:
November 16, 2019: School applications start to come in. Contestants will be receiving an email notifying them of their registration.
December 31, 2019: The status of school applications up to this date will be sent to the respective schools.
January 17, 2020: Deadline for receiving school application forms.
January 31, 2019: Participating schools will be informed of the maximum number of participants they may send to the spelling bee in Mexico City.
March 13, 2020: Deadline for receiving the original completed student applications from eligible schools and the original school application form.
March 20, 2020: The final list of participating schools and students is published.
March 29, 2020: Deadline for receiving each participating school's list of guests attending the spelling bee on the 25th of April.
April 25, 2020: The MEXTESOL National Spelling Bee sets off in Tuxtla Gutierrez, Chiapas
Preparing for the Spelling Bee with Spelling Bee Ninja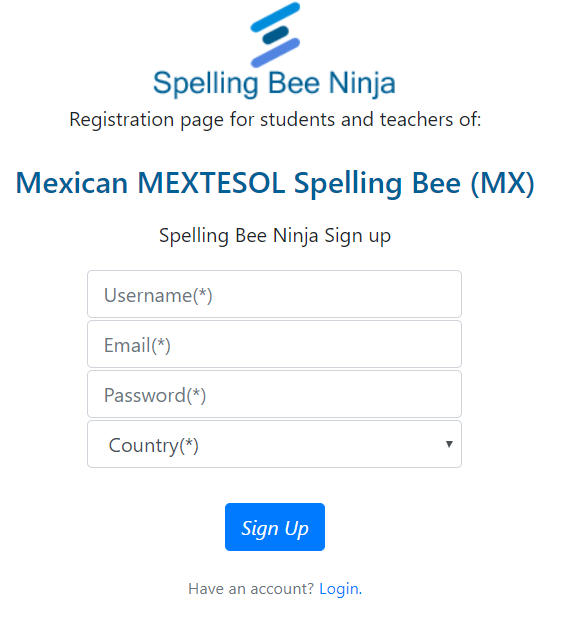 Spelling Bee Ninja app's latest feature allows you to select the spelling bee you plan on competing in and use relevant words and vocabulary for practice. Practice spelling bee words from our platform's spelling bee word lists using the SBN platform.
Click here to register on Spelling Bee Ninja as a Mexican MEXTESOL Spelling Bee Student.