The South Asian Spelling Bee is an annual competition held in the United States for children of South Asian descent. This spelling bee tours the country mid-year in search for the top two spellers from 5 cities nationwide. The finalists will then battle it out in the national rounds for the spelling bee crown.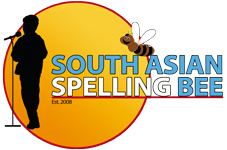 It also has a program similar to the Scripps National Spelling Bee's RSVBee, called the SAS-BEE where wild-card spellers can apply to compete at the nationals.
The spelling bee is open to any student below the age of 15, and having at least one parent or grandparent from a South Asian descent. Origin countries include Afghanistan, Bangladesh, Bhutan, India, Maldives, Nepal, Pakistan, and Sri Lanka.
Global broadcast
The South Asian Spelling Bee is aired on Sony Entertainment Television (SET) Asia as a multi-part series. The competition has been on since 2008 and broadcasted to over 120 countries.
Registration
A parent or legal guardian of the speller must register online via credit card. On-site registrations are not available. Registration of the participants must be done within the deadline as further extensions of the deadline are not possible.
Road to the South Asian Spelling Bee finals
This spelling bee is divided into three distinct stages. The primaries, regional oral rounds, and the national finals.
Primaries: This is a written test. Spellers are to write down 25 words with a time limit of 60 seconds for each word. A host will read out a word along with its definition. To qualify for the next round, the spelling bee contestants must spell a minimum of 15 words correctly.
Regional oral rounds: These rounds are conducted on a miss and out basis, until only one speller remains. This remaining spelling bee participant is given a championship word, which if spelled correctly, will make the speller the regional champion. The regional winner and first runner-up from each center will go on to spell at the final round.
Finals: The top 2 spellers from each regional contest advance to the finals. The final rounds are conducted completely in an oral format as described above. There will be a two minute time limit for each speller. The last remaining speller of the finals will be declared as the National Champion.
When is the next South Asian Spelling Bee?
The next competition begins in June 2020. Registration is on-going now with a fee of $50.
Prepare with SBN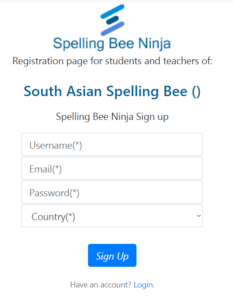 Spelling Bee Ninja app's latest feature allows you to enroll in dedicated programs for each of the top and most popular spelling bee competitions around the world. Practice spelling bee words from our platform's spelling bee word lists using the SBN platform.
Click here to register for the South Asian Spelling Bee program on Spelling Bee Ninja.