To win the spelling bee is a mammoth task. It takes one a lot of hard work and dedication if they are to have any chance of winning the spelling bee. But what can you do to win? What did the previous champions do to win the spelling bee?
In this article, we will be guiding you in a step wise manner to win the spelling bee.
For your ease, we will be dividing the steps into two distinct stages –
The preparation phase
The competition phase
Preparation phase
Use the proper resources
There is a plethora of resources available on the internet. Almost each one of them claims that it can help you win the spelling bee. However, despite the existence of such a huge volume of resources, not all of them are good or will be of much use.
To win the spelling bee, you need to stack up on some of the most important and best resources. Resources include word lists, spelling bee related articles, tips and tricks, online  platforms. You need to make a decision and choose from the vast collections available at your disposal. 
Click here to know about some of the most amazing spelling bee tools, resources, and where you can find them.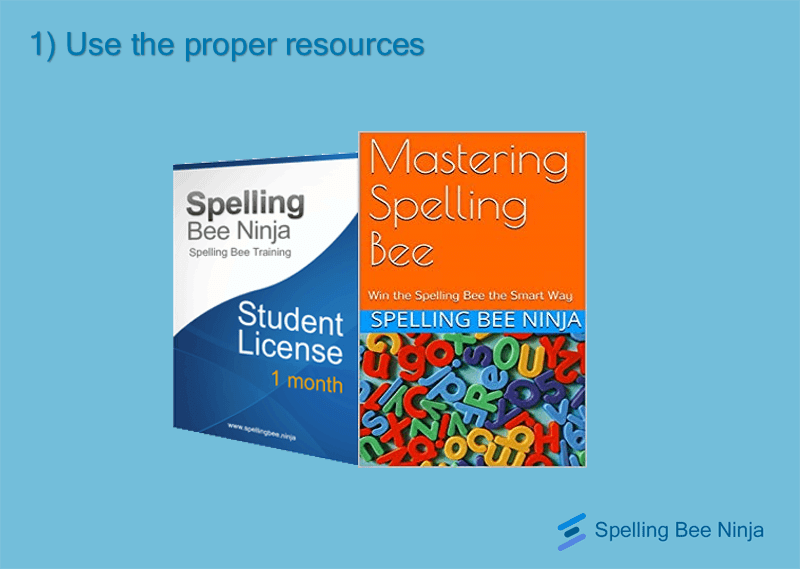 Check out our e-book, which is one of the best spelling bee manuals you can find.
Head over to Spelling Bee Ninja (SBN), one of the world's leading online spelling bee platforms. From word lists, to online spelling bee training, SBN will provide you with all your spelling bee related wants and queries. 
Practice makes the perfect speller
The universal mantra for memorizing anything is simple – read, write, and repeat. You will have to use this as well if you are willing to learn your word lists quickly. 
Set up a routine and daily goals. For instance, target 50 words everyday. Accomplish one goal and move on to the next. Practice the spellings regularly by taking online tests. Note down the difficult words and prepare a separate word list with them. Practice these difficult ones more rigorously. Leave no stone unturned while practicing if you truly want to win the spelling bee.
Click here to find all the word lists you will be needing to win the spelling bee.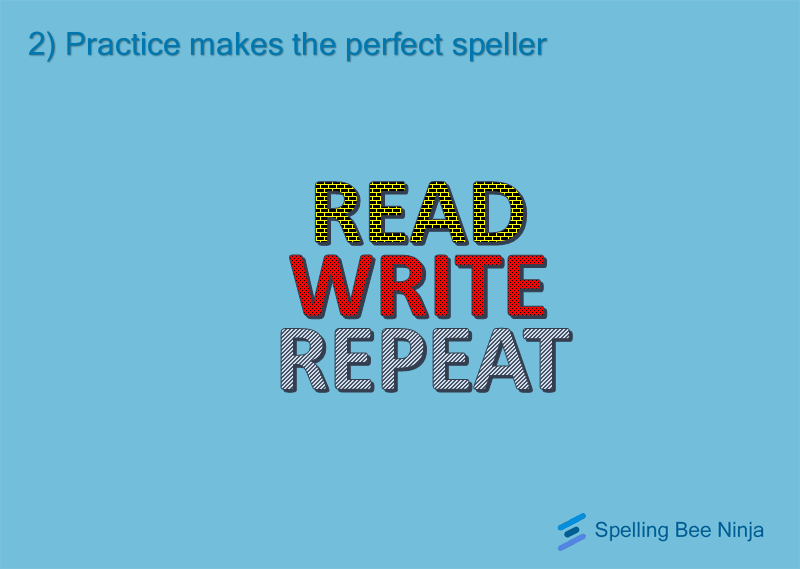 Train smart and give online tests to know where you stand
Once you have enough practice, take tests online to see where you stand with your spelling. Start with the easier word lists and gradually make your way to the harder ones.
To take online tests, try the SBN online test app. Here, you can use custom word lists as well to train yourself. The app is easy to use with a friendly UI.
You should also use the SBN Smart Trainer for your practice. The Smart Trainer will take note of the words you misspell and will keep repeating them in the subsequent tests you take until you get them right. That way, you cannot escape those difficult words that haunt you in your sleep.
Click here to know more about the Smart Trainer and SBN online spelling test.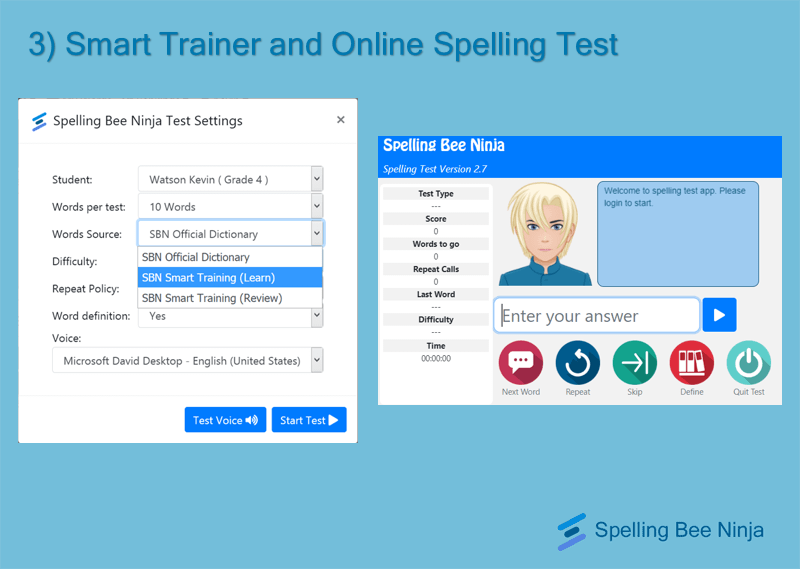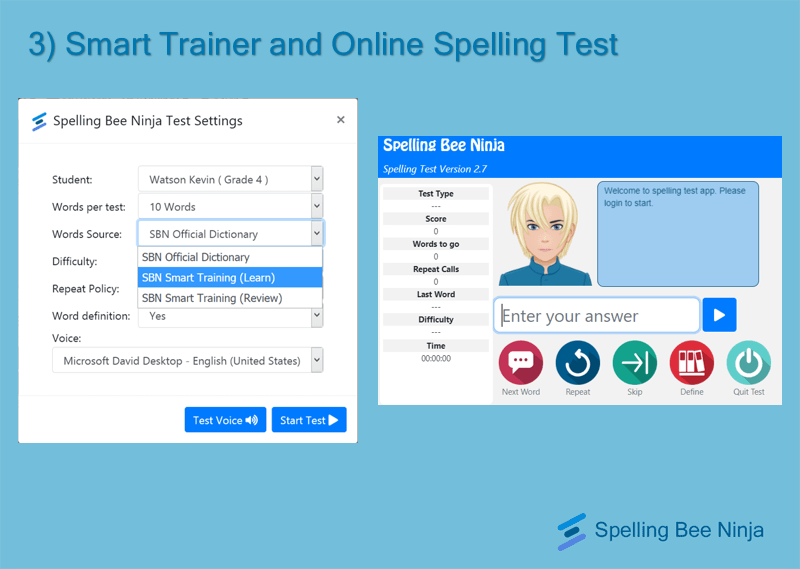 Give emphasis on the difficult words
The words that are unknown or seem difficult to you should be given special priority during your preparation. You should identify these words based on their difficulty level as well as how uncommon these are in your everyday use of the English language.
The best way to work with such words is by isolating them and creating a separate word list. To win the spelling bee, you must overcome your fear of such difficult or uncommon words. Once you have created the word list with this difficult set of words, your next task will be to approach them systematically. Take online tests using this word list.
Spelling Bee Ninja gives its members the opportunity to create custom word lists and flashcards. You can then use this word list to create flashcards or give online spelling tests as mentioned earlier.
Click here to know more about SBN's custom word list feature and how to use it.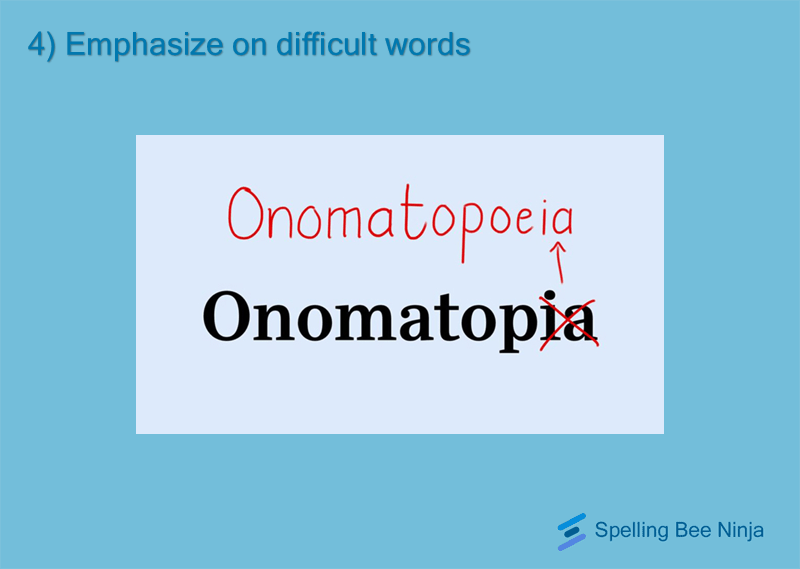 Have a good rest the day prior to the event
Be sure to get a good rest the day before the competition. Eat healthy and avoid all types of junk food if you can. Do not get yourself too tired before the competition. You cannot let fatigue or lethargy take over your body.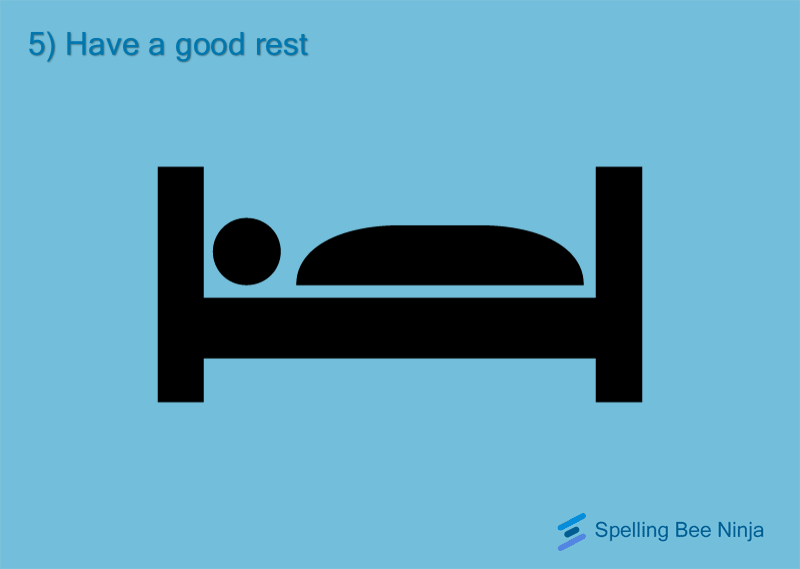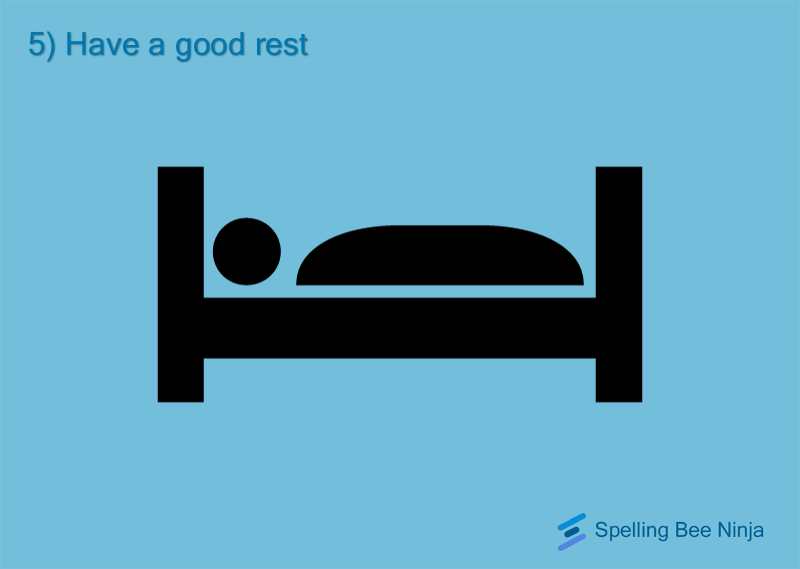 During the competition
Don't get intimidated by long words
Remember, all the long or complex words you see are nothing but combinations of smaller words or parts of words. Long words can easily intimidate you, especially if you are completely unfamiliar with them. The trick to learning such difficult words is breaking them down into their root or origin words. Approach these words with a divide and conquer policy.
Etymology is very useful when it comes to learning the root words or origin of a certain word. Click here to learn more about etymology.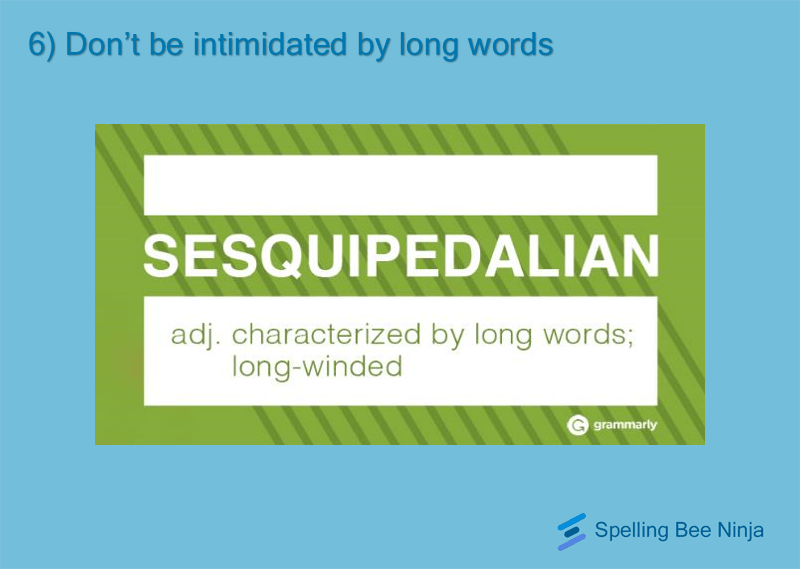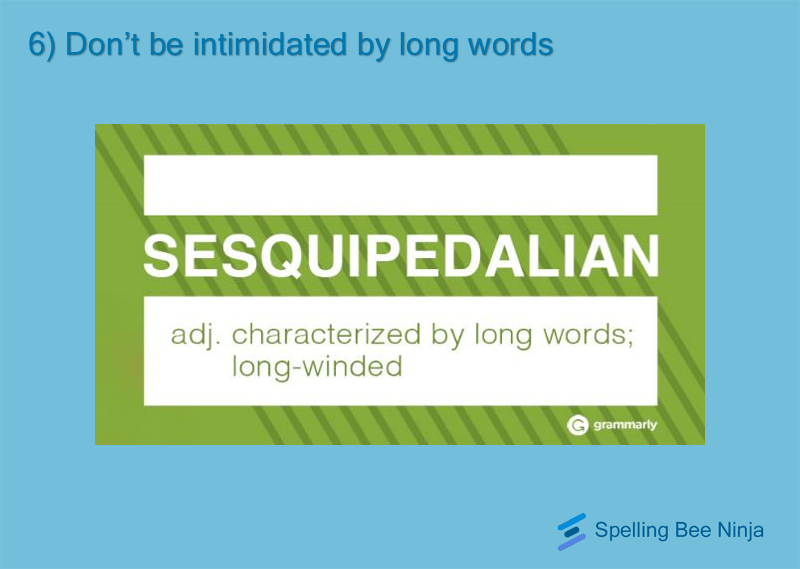 Don't rush your answers if you want to win the spelling bee
Once the announcer at the event reads out the word for you to spell out, wait for a few seconds before you spell it out loud, even if you are confident that you know the correct spelling. Rushing your answer might lead you to misspell the word unconsciously. 
Listen to the word carefully, ask for its meaning and a sentence, and then ask the announcer to repeat the word again. Then, pretend writing the word down on your palm with your finger, and spell out the word afterwards. That way, you will be able to reduce your chances of making silly mistakes.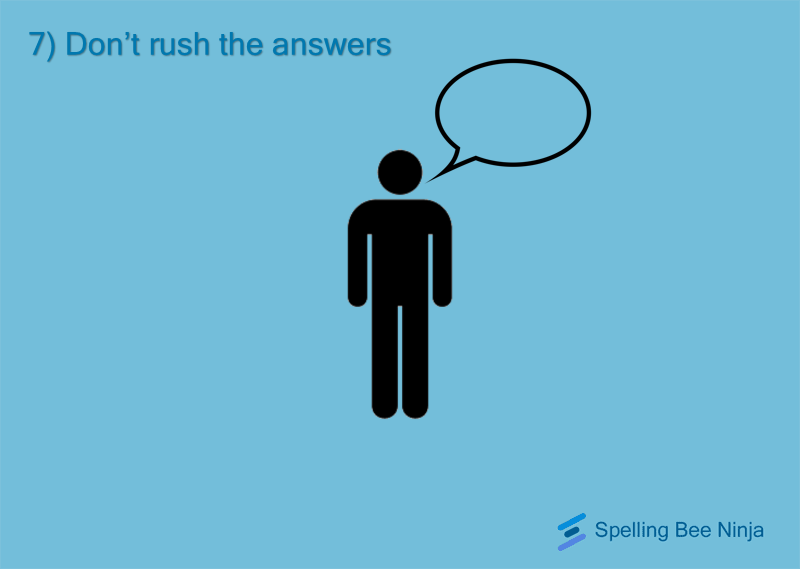 Overcoming the fear of public speaking
At the competition, you will be speaking in front of a large audience. Whatever happens, you cannot lose your cool and let your fear of public speaking get the better of you. Stay confident while speaking. If looking at the crowd makes you nervous, close your eyes while spelling. Remember, this fear or nervousness might just cost you the spelling bee championship. 
Spelling Bee Ninja is constantly providing its users and visitors with a variety of spelling bee related articles. We are also updating the features of our platform so that spelling bee participants and enthusiasts can be benefited. 
Stay with us for more spelling bee related content. 
If you have any suggestions or would like us to talk about something related to  spelling, you can contact us here.
Video version of this step by step how to
Pdf version of this step by step how to
Click the icon below for the pdf version of this article.