The Spelling Bee Ninja App for mobile, released few days ago is a gateway to all the contents and featured offered by our website and spelling platform.  Check it out on the play store, it is free to be installed and used by everybody.
The app gives direct access to our contents through a cozy drawer menu, check some screenshot to get an overview of the app structure.
As usual we opted for a simple, neat and minimalist design to let the user focus on contents and not be distracted by distracting bells and whistles.
The app itself is designed to be easy and quick, the layout is fully optimized to make the all our featured usable from a small handheld device as a mobile phone or a tablet.
It is also possible to access to our famous Spelling Bee Manual and download your free copy directly to your device ready to be used on the go.
The menu on the left contains for now the following shortcuts:

Spelling Bee Ninja App Home
Links to our Spelling Bee preparation app
Website
The homepage of the Spelling Bee Ninja Website, where you can navigate all ourt articles, how to, tutorials, video, everything.
Spelling Test app
Our spelling bee test app, featuring custom and smart spelling tests, the spelling app will use the installed text to speech voices, so please in case you don't have any English voice installed, install the one that best suits your need before using the app, modern phone operating system offers a variety of English voices with different accents (Australian, American, English and so on).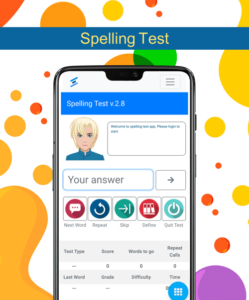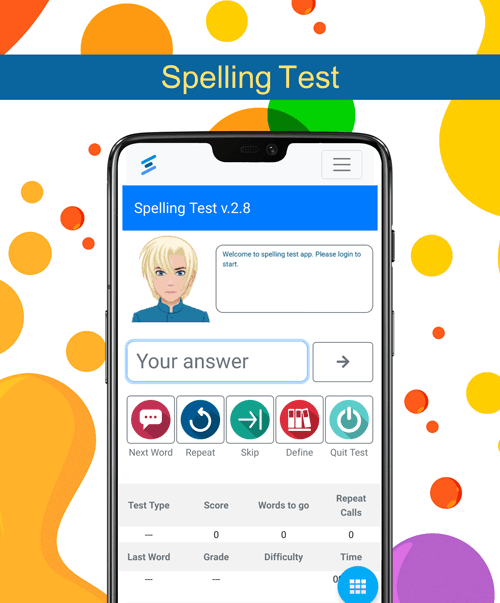 Featured words list
Access our carefully crafted words list for training and to be used with our Spelling Test app. Our featured lists has been recently added to the new version of our Spelling Bee training manual, download here your free copy if you still didn't.
Search Words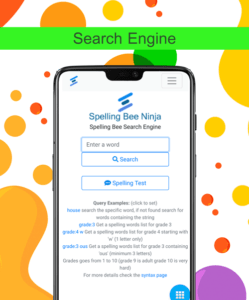 Our mighty spelling bee search engine is fully accessible from the mobile app. Fed by our users, the search engine, nicknamed 'Mai',  is able to provide  spelling bee related information for every single English word.
It represents a precious tool to create spelling lists and study unknown words while preparing for the spelling bee.
Moreover the menu offers quick links to your personal account data as My Account, My List, and My Students .
Once chosen your option you can just keep on navigating through pages as if you would do using our website, you can login, check rankings, score cards, manage your account, everything is as usual.
As said,  our Spelling app is released for free to every student of the world willing to improve spelling skills.
It is also a valuable tool for everyone learning English as a second language or willing to increase his vocabulary and get to know the English language more in depth.
In case you find any glitch or some feature not displaying properly please report it to us so we can fix it up as soon as possible, use our contact form to get in touch.
We released it to increase the popularity of the website and provide another tool to easily access to our resources.
We hope that you, along with a lot of students from all over the world will find it useful for you and will have fun using it.