Whether your students are participating at the Scripps National Spelling Bee or any other regional or private spelling bee competition, it is always a good idea to give them a taste of how the actual competition will be like, especially if it is their first time participating in such an event.
Such mock spelling bee sessions will only complement the hours of practice your students put in before the competition.
Besides this, the mock session will also help boost their self-confidence and allow them as well as their mentors, to identify their lacking.
Organizing a mock spelling bee session, however, is easier said than done as it requires a long time to prepare for and a lot of materials to conduct. But if you know the right way, and follow certain steps and guidelines, you will be able to organize these mock spelling bee sessions at your school or class with zero to little difficulty.
This article has been written from the teacher's point of view, keeping the needs of the students in mind, so that your institution can successfully organize a mock spelling bee session in the shortest time possible, and with maximum efficiency.
Proper scheduling
Timing is key when it comes to competitions like this. Depending on when you start with your preparations, you will either have enough time to prepare, or you will have no time at all. This is why you need to consider a few things before you schedule the mock session.
You need to give your pupils sufficient time to prepare for the spelling bee and also ensure that they have time after the mock session to work on their flaws and mistakes.
The ideal time for conducting such mock sessions is 20-30 days prior to the main event. Even if the mock sessions last for a week, your pupils will have a minimum of two additional weeks to work on their lacking.
Using word lists
Each grade should be tested on specific word lists set for them. But do not just stop there. If you see your students are acing their respective word lists, you should test them on a harder list from a higher grade.
Spelling Bee Ninja has spelling word lists available from grade 1 to high school.
Check out these word lists from Spelling Bee Ninja here.
You can also compose custom word lists by looking at the words used in the past competitions.
Do it in front of an audience
The purpose of the mock spelling bee sessions is to help your students familiarize themselves with the environment of an actual spelling bee competition.
Keeping that thought in mind, it is highly recommended that you conduct these mock sessions in front of a live audience. This will help your students to see how it feels when you are competing in front of a live audience.
Spelling bee contests attract a huge audience who come down to the events to cheer their loved ones or their favorite participants. In a few cases, these events are also broadcasted on live television. All this exposure to the public might make your students quite nervous. So it is in their best interests that you allow them to carry out the mock sessions in front of a live crowd and let them work on their fear of performing in front of a crowd (if they have any).
Anyone can be a part of the crowd, for instance parents, teachers or students from another section or grade.
Everyone should participate
Every student should be encouraged to take part in the mock spelling bee, even if they are not willing to participate in the main event. Not asking you to force them, but since they have nothing to lose here, you should go ahead and try to convince them into joining the rest of the participants.
You never know what might motivate these young minds. Perhaps the excitement a spelling bee has to offer or their own success in the mock ups might encourage these students to try their luck in the main event.
Reward them
One of the things that motivates students to participate in spelling bees is the amazing prize pool the competition offers. From prize money to various gift options, spelling bee competitions offer their winners and position holders a plethora of amazing prizes.
Rewards or prizes can be good motivators. Studies show that such reward based systems help people (and even other animals) to put in more effort towards something in hopes of getting a reward if that something is accomplished successfully.
This website offers a variety choice of Spelling Bee trophies and medals: https://www.jonesawards.com
Realistically speaking, your mock spelling bee cannot afford to have such a large prize pool consisting of large monetary sums or expensive gift options. Schools will not easily pass the budget for such a lavish prize pool. Instead, what you could give the winners is maybe some bonus marks in spelling or even extra credits. You could also opt for gifts like chocolates, or comic books, or anything else which will not cost a lot of money.
Use an EdTech platform
We live in an era where technology has made access to education much more convenient through educational technology (EdTech) platforms. It is thus, only reasonable that we make the best use of these platforms to save us both time and cost.
When it comes to spelling bee, no platform comes close to Spelling Bee Ninja (SBN). The platform has everything a spelling bee enthusiast could ask for. From interactive spelling lessons, to customizable word lists, you can do anything and everything here.
One of the things that sets SBN apart from the other spelling EdTech platforms on the market is that it does not offer games or puzzles as part of the learning system.
Spelling Bee Ninja takes things to a professional level and avoids the use of gameplay as a method of teaching. Although games and puzzles are good ways to learn, they can also be distracting.
Thus, choosing SBN will help you avoid that and will help your students concentrate more on the actual lessons.
Spelling Bee Ninja offers its users a plethora of resources for you to choose from.
Get yourself an account on Spelling Bee Ninja.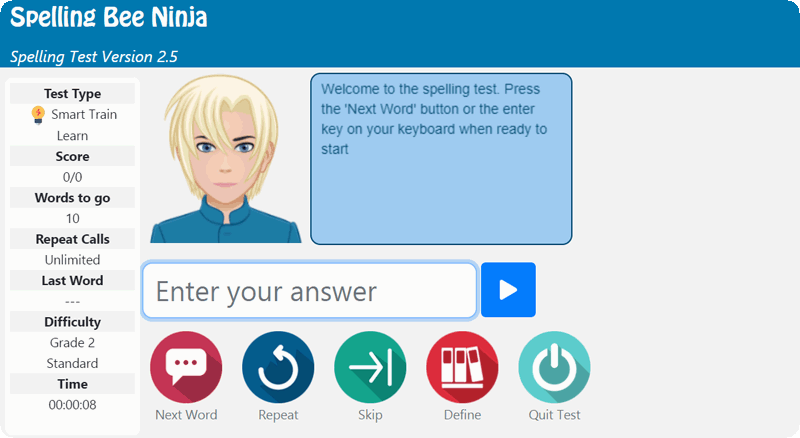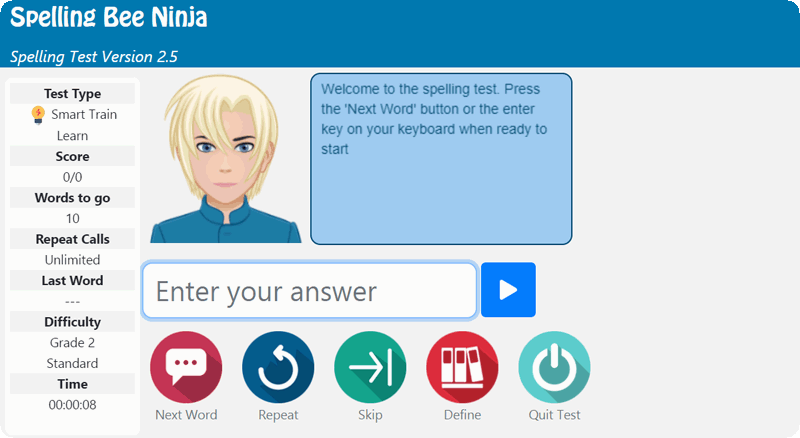 Be sure to have fun
Despite being vital to the pre-spelling bee practice, these mock spelling bee sessions need to be fun. The more the students enjoy themselves, the more enthusiastic they will be to participate in these sessions. Make sure that your students are enjoying the mock sessions and are interacting with among themselves.
Encouraging such experiential learning techniques can really help establish a sense of enthusiasm and motivation among pupils. Thus, we should allow our students and children to indulge themselves in the spelling bee activities, and should motivate them to do their best.