Introduction
Learning English is not hard when you have a strong word bank. Also, the best time to learn any language is when you are a kid. Similarly, in this article, we have discussed some of the most important words that a kindergartener should know in 2022.
This kindergarten English words list will develop their essential words bank, and also it will help them excel in English reading, writing, and listening.
The 50 Kindergarten English Words
These essential words are also known as the first 50 sight words for kindergartners.
Print Table
As you can observe in this list, there are no longer or complex words. They are easy for a kindergartener to learn, read and memorize.
Also, check out numerous other word listings and fun activities at Spelling Bee Ninja.
Use this list in our spelling training  app
This list is available within the SBN app, click the image below to view and download it in PDF format.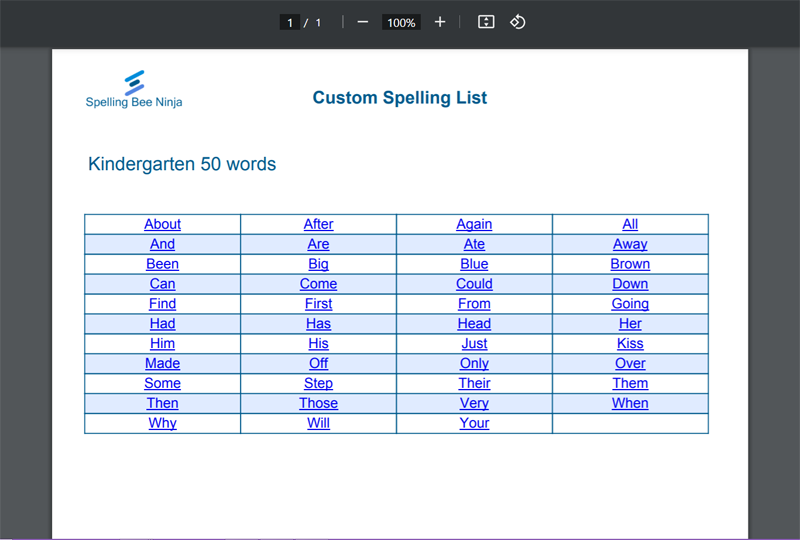 The flash cards for this list can be found clicking the image below.
PDF, Flashcards and SBN formats
What is unique about these words?
As stated earlier, they are easier words. Also, you will not find any words in this list which is more than five letters long. We are not saying that longer spelling is always harder to learn and read. However, from a kindergartener's perspective, a longer word is always harder since it looks scary to those sweet eyes. Also, they don't know the tricks and possess the mental capacity like an adult, so a shorter word is more catchy and straightforward to kindergarteners.
Moreover, the above-listed words are the most commonly used in the textbooks of kindergarten courses. Similarly, you will not find difficult words in their books other than the above fifty words.
How will children learn these words?
Children are natural learners, and you can say that they are programmed to learn until they acquire a skill set to survive in the world. Similarly, as you grow older, the capacity and urge to learn diminishes.
If you are patient enough with your kids and encourage them regularly, they can yield astonishing progress in their English learning.
The kindergarten English words list can be as simple as eating a pie, or it can become a hectic job for your kid. It all depends on how you approach them and your teaching method.
A kindergarten school is a safe place where children can learn free of stress and other irrelevant activities. Besides school, you can build their interest in various spelling and reading games at home. If you successfully attract them to these fun activities, this list of kindergarten English words should not be a problem.
Conclusions
Kindergarten English words are supposed to be the most straightforward and fundamental words of the language. English learning is a steady and fun process – if you are interested in it. Similarly, encouragement, a friendly environment, and fun ways of learning are a few things that can help your kid learn these essential words.
While you are at it, please look at our various English attractions. They can help you with how to teach and what to teach.