The Definitive Year 6 Spelling Words List (with Printable PDF)
Are you looking for a complete list of spelling words for Year 6 students? Look no further! This definitive list features all the words your child needs to know, along with a printable PDF for easy reference.
Spellings are an important part of any child's education, and our list covers all the key words your Year 6 student will need to know. In addition to the main list, we've also included a number of challenge words for those wanting to push themselves further.
Learning all these words will help your child become a confident speller, and give them the best possible chance of success in their future studies. So what are you waiting for? Download the list today and get started!
An excellent and proven method for spelling learning is getting ahead of others and downloading printable spelling word sheets. When you have a hard copy of the spelling sheet, it becomes easy to use it creatively to memorize and learn to spell.
Year 6 is the phase of education when you need to be aware of complex and challenging spelling in the English language. Similarly, challenging English introduces itself in the textbooks from level six onwards. So, in this article, we have discussed year six spelling words that, if prepared well, will bring you to the top level of English.
Year 6 Spelling Words
In this definitive year 6 spelling list, we have included the most common words that can help an upper and lower primary student. Also, these spelling are vital for the coming levels as well. Similarly, the 6th level is where students enter into an actual learning phase, which continues up to their professional degrees.
Print Table
Printable versions
This list is available within the SBN app, click the image below to view and download it in PDF format.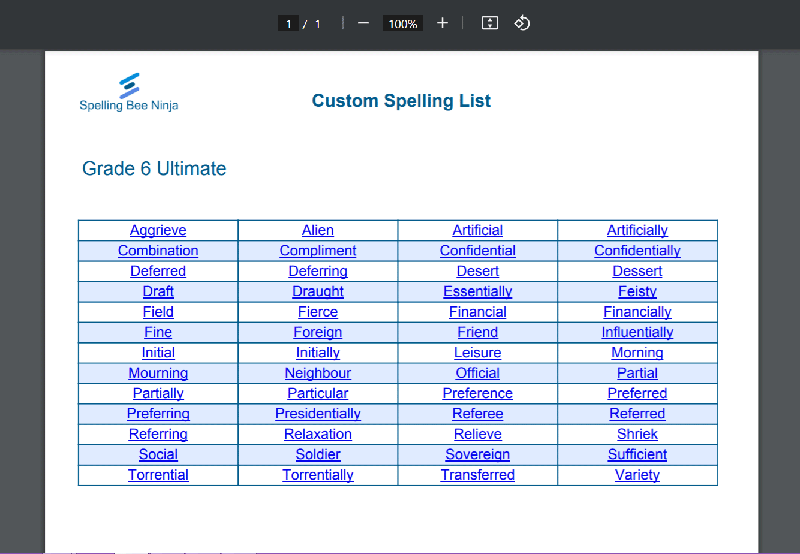 The flash cards for this list can be found clicking the image below.
PDF, Flashcards and SBN formats
How to confront and memorize them quickly?
There is no shortage of creative ways to learn and memorize spelling quickly. Likewise, lets' dive into a few methods through which you can remember them effortlessly – well, you will have to put a bit of effort.
Tackling problematic words / Homophones
There is no shortage of confusing words when you reach level 6. Similarly, where there is a problem, there is always a solution. These confusing words might sound similar; however, they are not spelled similarly and are called Homophones. For example:
Except – Accept
Ball – Bawl
Hanger – Hangar
Caret – Carrot
Believe – Belief
Eye – I
Duel – Dual
And the list goes one. We publish similar lists every week so, be sure to check our website regularly.
Teachers can give out assignments that aid students in identifying homophones and learning to spell them correctly. Moreover, students must put an extra and intelligent effort to identify them. Finally, parents' job is to encourage them, especially when they feel stressed and overburdened.
Improving short-term memory
Can you make lemonade without lemon? Of course, that is not possible. Similarly, you cannot learn spelling without a decent short-term memory. To perfect the art of learning, you need to have an excellent short-term memory.
It is the job of parents to feed the children with mind-strengthening food, and it is the job of teachers to job their memory with brain-enhancing exercises.
If you look at this problem carefully, it is not rocket science. It is a pretty simple process, and if you put a bit of effort into this area, the results will astonish you.
The Benefits of Spelling Bee Ninja
Spelling Bee Ninja is the ultimate spelling resource for kids of all ages. Our program provides a fun and interactive way for children to learn, practice and improve their spelling skills.
In addition to our comprehensive list of spelling words, we also offer a range of other features designed to make learning spellings more enjoyable. These include printable worksheets, games, quizzes and more.
Sign up today and your child will be on their way to becoming a spelling bee champion in no time!
Final Thoughts
Spelling learning is fun, but unfortunately, this activity has become dull due to not-so-good ways of teaching and more homework. Also, the parents must take a step in and guide their children on the right and entertaining path of learning.
Furthermore, continuous encouragements, fun learning, and a stress-free environment are the fundamental keys to perfecting one's English. Also, these strategies can help you learn year 6 spelling words more creatively without facing many difficulties.
Do you wish to learn fun ways of teaching and learning English? Please keep visiting our website to get more fantastic ideas and strategies concerning English.